Collection-worthy
06 Jun 2022
Southern Potteries' Blue Ridge tableware continues to inspire antique hunters
By Kat Ford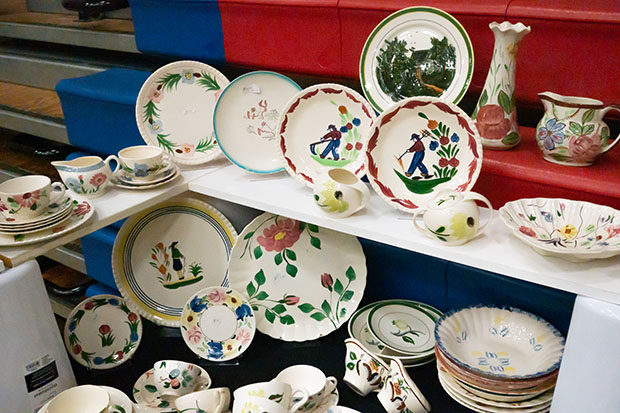 What started as an attempt to develop enterprise along a railroad led to jobs for an unskilled workforce, a town legacy and a nationwide demand in showrooms.
Whether you have a trained eye or still need to flip over a piece of dishware to spot the Southern Potteries or Blue Ridge stamp, you'll likely be curious the next time you see a hand-painted underglaze flower on a plain white plate to tell if it's an authentic piece of Blue Ridge pottery.
Raquel Murphy first learned about Blue Ridge pottery from her friend Wanda Coffield. Wanda was from Tallahassee, FL, but her family hailed from northern Georgia. Raquel grew up in Miami and was fascinated with Wanda's depth of skill, lessons like quilting passed down through generations of rural women. Along with their many talents, Wanda's great aunts handed down pieces of Blue Ridge pottery.
When Raquel moved into her family's summer cabin in Sapphire 20 years ago, Wanda would visit at least once a year. Together, they would go treasure hunting for new hand-painted Blue Ridge pottery pieces through consignment shops and antique malls from Brevard to Hendersonville.
According to the Tennessee Encyclopedia of History and Culture, a joint project of the Tennessee Historical Society and the University of Tennessee Press (tennesseehistory.org, "Southern Potteries, Inc." by Margaret D. Binnicker, 2018), Blue Ridge pottery is the moniker given to mass-produced, hand-decorated dinnerware created by Southern Potteries, Inc. in Erwin, TN.
Southern Potteries began operation in Erwin in 1916, about two hours north of Cashiers. The construction of the Carolina, Clinchfield and Ohio Railway made the area accessible and an end to the boom of the China dishware industry in Ohio, as well as the availability of natural resources in the area and adjacent states, made the craft appealing.
Initially using decals for decoration, a shift to hand painting and an underglaze technique led to Southern Potteries' greatest boom. They were the nation's largest producer of hand-painted pottery during the 1940s; female decorators turned out as many as 324,000 pieces per week at the company's peak near the end of World War II.
The second World War's lack of European imports led to the rise in demand for American pottery across the United States.
The post-war development of plastic dinnerware and an increase in Japanese-imported ceramics led to the factory closing in 1957, causing the finite pieces of pottery to became collection-worthy.
Many of the patterns found on Blue Ridge pottery consist of flora and fauna.
"For me, it is all about color," says Raquel Murphy, who built her collection piece by piece, focusing on floral elements in yellows and green. Murphy found her first piece of Blue Ridge pottery in Havana, FL. Once, she found two pieces with ivy motifs in a small town outside San Francisco. Murphy notes that it is also common to find the dishware in shops in the Northeast. "I like to mix and match the different pieces," she says. "I rarely find pottery with animals. I've only come across two items decorated for holidays or special occasions. Some plates have a beveled edge or beading along the edge, but those are harder to find."
Even as the internet and a growing collector base make locating Blue Ridge pottery easier, Murphy insists she prefers to add to her collection the old-fashioned way.
"It's the thrill of the hunt," she said. "Now, I can spot Blue Ridge anywhere; I can even spot the fake Blue Ridge. Wanda used to say to me, 'No, that's a fake one; we don't even know if a woman had anything to do with this!'"
Wanda passed away six months ago, but the womens' bond over Blue Ridge pottery, and the women who hand-decorated the pieces, lives on.
Murphy serves guests visiting the family cabin on her collection of Blue Ridge pottery often. "Nothing has faded; I love to use them whenever I have dinners with women," she said.
For Murphy, there's a type of enchantment and connection with the female artisans of Southern Potteries. She ponders their work environment and lifestyle.
"I always wonder what a day in their life would be," she said.
Thanks to the Erwin National Blue Ridge Pottery Club, dedicated to the preservation and enjoyment of Blue Ridge pottery located in Erwin, collectors sharing Murphy's interest in the original artists of Blue Ridge pottery are in luck. In 2007, the club released a video titled "Blue Ridge Pottery Stories," comprised of interviews with original artisans. A copy of the video can be purchased on the club's website at www.blueridgepotteryclub.com.
Joey Lewis, past president and current vice president of the club, owns Valley Beautiful Antique Mall in downtown Erwin and features over 5,000 pieces of Blue Ridge pottery in addition to other forms of east Tennessee hand-painted dinnerware and collectible items.
For those interested in starting or adding to their collections, the club's next annual show will be held in Erwin on October 6-8. More information can be found at www.southernpotteries.com.
For those starting or adding to their collection, this unique pottery has the ability to foster friendships, like the one Raquel Murphy and Wanda Coffield shared. Happy hunting.