Wedding Bells and Bourbon Tales
02 Feb 2023
Landyn Smith's father rebuilt the golf course at High Hampton to make her dream come true
By BRITTANY CONLEY
Photos by VICTORIA CARAMAN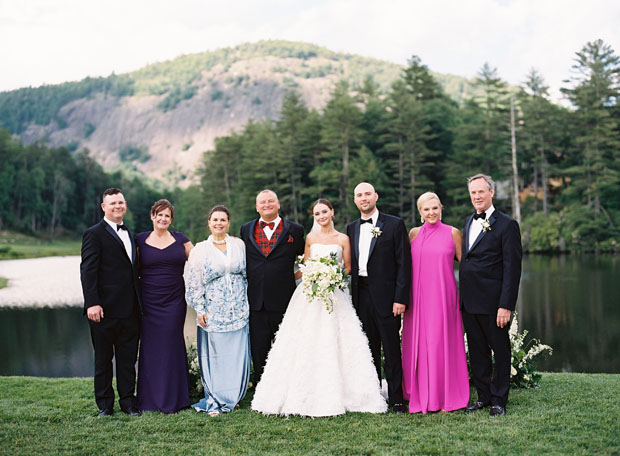 A quick Google search says it takes anywhere between 6-12 months to plan a wedding, but that's not entirely accurate for many brides. Some of us started planning our dream weddings from the first time we clipped an embroidered pillowcase to our hair and hummed the wedding march off-key, our imaginations already churning away about what our perfect day would look like. Landyn Smith knew one thing for certain about her future wedding day. She was determined to get married in a place special to her family. It was a delightful happenstance that place was also special to her groom.
Originally from Michigan, Landyn left the chilly north to attend nursing school in Atlanta, Georgia. Her family likewise felt a pull to explore the south and quickly found themselves smitten with the Highlands-Cashiers Plateau. Landyn's father, David McIntosh, a fourth-generation golf professional, came here to renovate golf clubs in the area, ultimately rebuilding the golf course at High Hampton. Every chance she had, Landyn escaped the city, joining her parents to take in the restorative power of the idyllic Appalachian scenery. Returning to the chaos awaiting her in Atlanta was not easy–until Landyn met Adams Smith.
Adams was also a student in Atlanta. Once the pair met, they soon realized they shared a deep affection for a certain slice of Western North Carolina paradise, as Adams' parents, Brent and Elizabeth Smith, have a home in Sapphire's gorgeous Lonesome Valley, and he'd long been coming to the plateau as well. Much of the pair's dating life centered around traveling to North Carolina. Not only were they getting to know each other, but their families also bonded. The magic of the mountains didn't just intertwine two hearts, but the hearts of two families.
Once a ring adorned Landyn's finger, planning was underway for a High Hampton wedding no attendee will soon forget. "Tony and Carrie Snoey are absolutely wonderful. From the beginning, they were so accommodating, making sure our day would be nothing less than perfect. Working so closely during the renovation, my dad formed incredible friendships with them and all the High Hampton staff. They truly treated our wedding as if it were their own family's special day," says Landyn, noting the overwhelming generosity of the High Hampton staff. Yet, despite all the attention to detail from the bride and groom and the staff at High Hampton, one dark detail loomed: a high chance of rain.
"The week leading up to the wedding, there was an 80 percent chance of rain," says Landyn. Luckily for Adams and Landyn, their pastor, Rob Wood of Cashier's Church of The Good Shepherd, had heard a tall tale or two over the years about preventing rain on their special day. "He told us to bury a bottle of bourbon upside down at the ceremony site," says Landyn, and if she had ever held an ounce of skepticism for the old wives' tale, it has long been erased. "My dad spent months leading up to the wedding renovating the island we'd gather on, just to make it perfect for our day. He found the most beautiful view, buried the bottle, and it worked. We had unbelievably great weather. We had perfect weather." But burying the bourbon wasn't all; they had to unearth the bottle after the knot was officially tied, and the members of the wedding party had to take a swig. "It was just another special moment on our day. Something we will never forget."
On June 11, 2022, guests gathered with Adams and Landyn under an azure sky rolling with big, puffy clouds. The mountains framed the ceremony's backdrop. "It's stunning. There are clear views of all three mountains: Rock, Chimney Top, and Whiteside, and we were right in the center. There is truly no other view like it," says Landyn. The entire day was a fairytale, with lifelong dreams coming true. Landyn had the wedding she'd long desired in a place deeply sentimental to her family, but most importantly she wed the person she is excited to share all of life with.
Adams and Landyn now live in Augusta, Georgia, but they make the pilgrimage to their home away from home as often as possible. Like so many who fall in love with the laid-back way of life here, it is the simplicity and sense of family and tradition that compel Adams and Landyn to escape to the mountains whenever the opportunity arises. They've got a lifetime of fly fishing, shopping, and reliving the memories of their most majestic High Hampton wedding ahead of them—and, one day, watching their own children fall in love with the plateau just as Adams and Landyn have.