Striking a Chord
06 Jun 2022
Nancy Gould-Aaron's nonprofit leadership is music to plateau ears
By Kat Ford
Photos by Tracy Mendy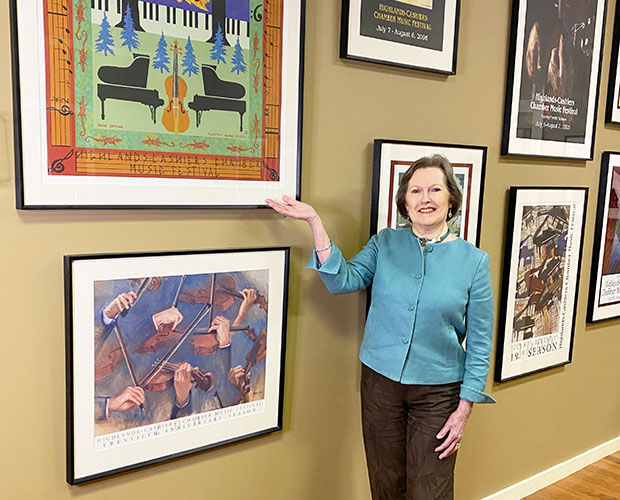 In 1979, Nancy Gould-Aaron started vacationing in Highlands; by 1984, she bought a home. She prioritized her mountain life in the reverse order of most, choosing to rent an apartment and make the weekly drive back and forth to Atlanta, where she worked for Ted Turner selling airtime for television stations.
By 1988, she and her husband had transitioned to full-time Highlanders and opened Southern Hands, a retail store that served Highlands (and for seven years, a second location in Cashiers) for 20 years.
In 2008, Sanford Cohn and Ruth Gershon, friends and Southern Hands' customers, encouraged Nancy to come on board as executive director of the Highlands-Cashiers Chamber Music Festival.
Dr. Lucas Drew founded the Highlands-Cashiers Chamber Music Festival (HCCMF) in 1982 with the assistance of a $5,000 grant from Mr. and Mrs. Donald Kahn of Miami through the Janet Annenberg Hooker Charitable Trust and the University of Miami School of Music. Dr. Drew had organized a series of three successful concerts from 1974 through 1976.
The Festival incorporated and was granted nonprofit status in 1983 and held concerts in the Great Hall of the Episcopal Church of the Incarnation for ten years until audience size led the concert to the larger sanctuary of the Highlands Methodist Church.
In 1998, the Festival moved to the Community Bible Church in Highlands. In 1999, Sanford Cohn and Ruth Gershon generously gifted the Community Bible Church to the town of Highlands for use as a performing arts center. With an additional gift from Bill and Nell Martin, the building was completely renovated and opened as the newly named Martin-Lipscomb Performing Arts Center (now known as the Highlands Performing Arts Center) in 2001.
The Great Recession, lasting from 2007 to 2009, was not the easiest time to step into leadership in a growing cultural nonprofit. But Nancy pulled from a well of experience in retail, customer service and advertising. She kept a watchful eye on spending, valuing fiscal responsibility while listening to patrons' desires. Like all great merchants, she had mastered the art of befriending clients, offering personalized service and taking care to ensure concert goers enjoyed the Festival.
In heeding patrons' feedback, Nancy suggested a new concept to the Festival's board—short concerts with hors d'oeuvres, similar to the Festival's popular Feasts events, but scheduled earlier to avoid conflict with dinner. Now, the Festival hosts more of these Salons than Feasts, yet both events are vital for financial support.
Leadership is not foreign to Nancy. She was the first female president of the Highlands Chamber of Commerce, where she served on the board for five years and was elected to serve once again in 2014. In addition, she is a member of The Rotary Club of Highlands.
From June through August, you can find her working seven days a week at the HCCMF. It is not uncommon for her to respond to emails at 11 p.m. She collaborates with William Ransom, the Anna and Hays Mershon Artistic Director of the Highlands-Cashiers Chamber Music Festival. Nancy handles promotion and day-to-day activities. Ransom, the Mary Emerson professor of piano at Emory College and director of the Emory Chamber Music Society of Atlanta as well as the artistic director of the Shepperd Center in Atlanta, is tasked with finding and providing talent.
Each year, HCCMF strives to improve the quality of concerts and talent provided to the community. Musicians currently come across the nation, from Los Angeles to Philadelphia and around the globe, as far away as France and Italy.
Currently in its 41st season, from July 1 through August 7, guests will have an opportunity to hear world-class chamber music for as little as $35 a ticket.
Each week, concerts are held Friday through Monday. Friday and Sunday concerts are held at the Highlands Performing Arts Center (PAC) and Saturday and Monday concerts are held at The Village Green in Cashiers.
In addition to the Regular Concert Series, the Festival provides its famous Feasts and Salons, as well as a series of special programs. True to its collaborative roots, these special programs team with other area nonprofits, including "Beethoven at The Bascom" held at The Bascom: A Center for the Visual Arts and two classes at the Center for Life Enrichment in Highlands which will be held in July. In April, the HCCMF spring residency program, sponsored by Cullasaja Women's Outreach, brought the Boston-based Rasa String Quartet into schools in Highlands and Cashiers with a free public concert.
Additional free public concerts are planned throughout the summer as well, including "Bach at Bucks," and "Interlude Concert" at the First Presbyterian Church of Highlands; jazz concerts in Highlands and Cashiers; and a "Jazz Jam" inviting local musicians to bring their instruments at The Village Green. For the full Festival schedule, visit www.h-cmusicfestival.org.
An easily-accessible introduction to chamber music in a rural community is just one of the gifts HCCMF offers the plateau.
Last year, the Festival teamed with The Bascom to exhibit the visual works from past event programs in The Bascom's Joel Gallery. The Festival releases an event program with original art on the cover each year. The art becomes part of the HCCMF's permanent collection, which Nancy enjoys looking at in her office daily and has grown to include the work of Diane McPhail, Rosemary Stiefel, Ann Strub and Sallie Taylor, among others. Mase Lucas of Scaly Mountain holds the honor of 2022 Festival Artist.
Throughout the year, several plateau nonprofits use the performing arts center as a quality venue, including the Highlands Cashiers Players and the Mountain Theatre Company.
Teaming with visual artists, cultural and community nonprofits, schools and local businesses allows the Festival to fulfill its mission of enhancing "the cultural life of western North Carolina by sponsoring performances by acclaimed musicians and promoting education, outreach and audience development programs that foster an appreciation of chamber music."
The Festival hopes to continue fostering this appreciation in a broadening age group, with artistic director William Ransom fossicking for talent that will pull younger audiences away from their screens and demonstrate what he already knows to be true- chamber music is far from boring.
For the Festival to achieve success, Nancy notes the importance of donations. While tickets to the Regular Concert Series are $35, bringing in world-class talent could cost as much as $25,000 for a single program.
This year's "American Salute," scheduled for July 3, includes 15 musicians alone. Bringing musicians that play for the Atlanta Symphony, LA Philharmonic or Philadelphia Orchestra to the doorstep of plateau children offers a perspective lens that is usually only available to those living in urban settings. HCCMF sends out a fall newsletter and yearly ticket brochure to supporters, including envelopes with donation forms. There is also a link to give online through the Festival's home page.
For those who have a life-long love of chamber music, HCCMF has also created a legacy society for longtime donors. It is essential to note the separate but together nature of the Highlands PAC and the Festival when giving. Giving a separate donation to the Highlands PAC provides a place for organizations' audiences to enjoy the arts beyond the festival.
For over 40 years, HCCMF has grown its audience and acclaimed programming. It stands as a pillar in the arts and a leader with its fellow cultural nonprofits. Since 2008, Nancy Gould-Aaron has brought keen business acumen and friendly customer service to an organizational-wide winning equation, surviving hardships and thriving in mission-mindedness. That type of community stewardship, and leadership, is sure to resonate with just about anyone.
BIO
Nancy Gould-Aaron
Executive Director, Highlands-Cashiers Chamber Music Festival
Birthplace: Stamford, NY
Education: Lake Erie College, Painesville, OH with a BA in English
Family: One sister and brother-in-law, three stepchildren, four grand children