Lush Landscapes
02 Jun 2020
Outdoor living designs that highlight the luxury nature has to offer
By Christa Miller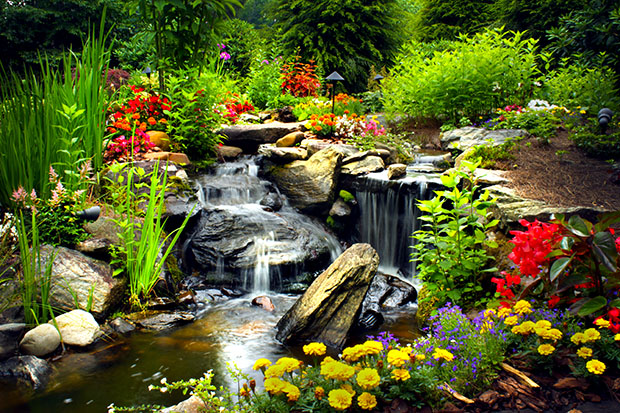 Lush greenery, vibrant blossoms, the peaceful burble of running water, and a comfortable place to relax and enjoy it all are top of mind for many plateau home and business owners come spring. As the weather warms, landscape architects and designers get to work shaping beautiful spaces that highlight Western North Carolina's best wild features and allow residents to enjoy them where they were meant to be enjoyed—outdoors.
Inspiring Peace with Water
Peaceful entertaining was the goal behind a "willow pond" that Tate Landscaping Services designed. Lobbyist Mike Hightower sought "a garden… [to] enjoy a leisurely stroll with a glass of wine with his clients," says Jim Tate, North Carolina Registered Landscape Contractor and the Highlands, NC company's owner/operator.
To create "a garden that calmed the senses," Tate kept it simple: "not by using a huge plethora of plantings, colors and excitement, but… by highlighting the natural water source with creative views and enhancements." These included grassy areas for Mr. Hightower to stroll, along with native flora and ponds, streams, and waterfalls "to bring the garden to life with sound, and to provide focal points for him to stop and admire the garden," says Tate. "Sometimes less is more, and the 'willow pond' is a perfect example."
Landscape designers at Four Seasons Landscape specialize in "extreme" water features, which they've built more than 100 of since 1994. "Our goal with our water features is to re-create nature as much as humanly possible," says Donita Cline, chief financial officer.
On one recent project, the Western North Carolina landscape designers created an outdoor space whose water feature could be as adaptable to the client's lifestyle as needed. "He wanted a water feature and patio space to relax, pray, meditate, drink, or party," Cline says.
Having seen one of Four Seasons' water features at a neighbor's property, this client wanted one for his own backyard—a relatively small space, says Cline, between his house and the Cullasaja Club golf course. Four Seasons' manmade stream/waterfall/pond project features bright flowers and lush greenery surrounding the stone waterfall.
Extending Living "Rooms" into Nature
Blending people with nature is the philosophy behind the designs at Highlands, NC based Ross Landscape Architecture, which incorporates structures into a natural setting. At one residential Lake Toxaway property, for instance, natural pathways designed for the terrain lead clients from home to boathouse through a succession of garden "rooms" including an oval lawn and gardens. The rooms provide "a sense of movement and surprise," says owner/operator Henry Ross, PLA, ASLA.
One critical factor in the success of this kind of design: hardscape, the non-living elements—a patio, outdoor kitchen, water feature, retaining wall, or staircase—of a design. "The hardscape elements define the use of a space… to lead visitors through different zones of planted areas, lawns or into a secluded garden," says Ross. "[It provides] definition and a sense of organization to the natural areas and features."
Another example of these kinds of spaces can be found at Christopher Cottage at Wade Hampton in Cashiers, NC—what Mary Palmer Dargan, ASLA and owner of Cashiers-based Dargan Landscape Architects, calls "the quintessential woodland cottage on a mountain lake."
Three outdoor living spaces extend the cottage's living areas "into the landscape in every way possible," says Dargan. Designing for her cousins, Lisa and Perrin Dargan, she needed to factor in their love of nature, their desire to entertain, and plenty of space for their two dogs.
A pavilion designed for romantic outdoor entertainment "elegantly spans the creek which runs beneath it," says Dargan, "and the sound is most atmospheric." Constructed of laurel twigs and black locust, the magical 20 x 20 pavilion has a high domed roof reminiscent of an outdoor cathedral. Mossed entablature furniture, custom-made for the property, complement the rustic feeling.
"Another intimate outdoor seating area, adjacent the little lake, is perfect for a stop on a garden stroll," says Dargan, "and the third outdoor area is accessed up hemlock circle planks to a tiny fire stand in the middle of the woodland."
Home Comforts in an Outdoor Setting
A cozy porch is an inviting option for home or business owners who want to experience home comforts outdoors. "Porches play a large part in enjoying the experience of mountain living," says Ann Sherrill, owner/operator at Cashiers, NC based Rusticks Furniture.
Rusticks' own porches—one screened, one open—serve as a baseline for customers seeking to decorate their own. Because nearly every new home is built with some kind of outdoor dining and living space, Sherrill says sofas, chairs, rugs and décor are in demand. "[It's] everything you would put in a very comfortable great room, except made to be weatherproof," she explains.
To that end, upholstered furniture is constructed with framing and high-performance fabrics that resist moisture, heat and sunlight. "Outdoor spaces are beginning to look more like indoor spaces: comfortable, but versatile," Sherrill says.
This is on display in the "modern cottage" blend for a home renovation undertaken by Lynn Monday, an interior designer in Cashiers, NC. The porch takes advantage of a stunning lake view, as well as the ambient sound of a nearby spillway that sounds like a waterfall.
The clients sought a variety of textures throughout the home, including on the brand-new porch. There, says Monday, a gray stone fireplace with tan grout offered the color scheme she based her design on. Situated by the fireplace is outdoor woven seating by Palecek, driftwood like dining table and cubes are by Restoration Hardware.
Monday then added depth using a set of Brochier pillows that combined the gray and tan with the home's exterior dark steel color with the furniture's white. "That combination brought it all together," she explains.
Stone tables outside—two petrified wood drink tables and one marble coffee table, from the Phillips Collection—add to the mountain modern feel, as does the custom chandelier, by Chad Collins of Stagridge, which combines bleached antlers and black iron.
Two "huge Magnolia swings with bunches of pillows" will hang from the ceiling in an open-air space, adding to the seating arrangement. To complete the look, Monday hung tan sheer indoor-outdoor fabric drapes from Carleton on black iron rods.
No garden, porch, or other outdoor entertaining space would be complete without beautiful accents that complement the space. "Fragrant cut flowers, plants, pots, garden requisites and botanical inspired home decor help [clients] create outdoor dreams at one stop," says Kirk Moore, the garden designer and historian who owns Oakleaf Flower and Garden in Highlands, NC.
Oakleaf specializes in "orchestrating memorable events far and wide," adds Moore. Weddings are a particular focus. "Oakleaf does more than flowers and decor," he explains, adding that as a landscape architect, he sees a wedding tablescape as a garden. His designs incorporate fresh blossoms with plants and interesting gardenesque details such as antique pots, moss, twigs and flickering votives. All lend themselves to Moore's philosophy: "Oakleaf launches families."
Moss, bark, antique majolica and native plants are now the paints on Moore's palette, all part of the stress-free "mountain vibe" that characterizes his shop—and the events he designs, highlighting what is so special about enjoying life in the plateau outdoors.
Tate Landscaping Services
tatelandscapingservices.com
828.526.8953
Four Seasons Landscape
FSL-WNC.com
828.743.1046
Ross Landscape Architecture
rosslandarch.com
828.526.5074
Dargan Landscape Architects
dargan.com
404.354.1715
Rusticks Furniture
rusticks.com,
828.743.3172 ext. 201
Lynn Monday Home
lynnmondayhome.com
828.743.2094
Oakleaf Flower and Garden
oakleafstyle.com
828.526.8000