Drawing the Line
03 Oct 2022
Six art education destinations for your learning pleasure
Story by Kat Ford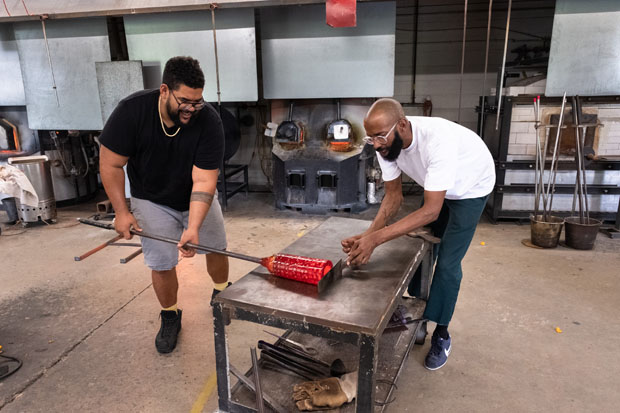 Cultural and learning events throughout the plateau provide residents and visitors with a plethora of options. But within a mere two-and-a-half-hour drive, renowned art and craft schools offer exhibitions, classes, workshops, residencies and more. We've highlighted six schools and centers for the creative arts that are sure to kick-start your creative juices this autumn and keep them flowing well into the new year. (Asheville's Black Mountain College Museum + Arts Center is not on this list- but make sure to read this issue's article on Black Mountain College to learn more.)
The Bascom: A Center for the Visual Arts
Highlands
Public Hours: Tuesday through Saturday 10 a.m. to 5 p.m.
Starting as a small art gallery housed in Highlands' Hudson Library, The Bascom: A Center for the Visual Arts has become a vital regional cultural resource. Three gallery spaces and the outdoor Winkler Sculpture and Nature Trail host approximately ten exhibitions each year, pairing with their Outreach and Education departments to attract 20,000 annual visitors. Educational opportunities include workshops and private lessons in various mediums, including painting, ceramics and photography, and an independent ceramic study program through the Dave Drake Studio Barn. The Bascom's commitment to professional and entrepreneurial development in artists is reflected in its four residencies and fellowships as well as the work of over 150 local and regional artists in The Bascom Shop. Aside from the curated work available year-round, The Bascom Shop provides monthly pop-up shop opportunities while the Dave Drake Studio Barn hosts their annual Studio Barn Pottery Show. Lectures and seminars include curator talks, artist meet-and-greets and the yearly Three Potters' Symposium. Bring the whole family for a walk on the StoryWalk, private youth or family lessons and take-and-make activities. With the anticipation of its 40th anniversary in 2025, The Bascom launched an oral history project seeking first-hand accounts of its journey while becoming a vibrant art center. To contribute to the project or for exhibition, event and class schedules: thebascom.org.
Hambidge Center
30 minutes from Highlands
Public Hours: Tuesday through Friday 9:30 a.m. to 4 p.m.; Saturday 9:30 a.m. to 2 p.m.
Created in 1934 by Mary Hambidge as an artist enclave and sustainable farm in memory of her artist partner, Jay Hambidge, the Hambidge Center is one of the oldest artist communities in America. A talented weaver inspired by nature, Mary employed local women to create weavings that would later be in the likes of the Smithsonian and MOMA. After her death, the center evolved into a formal interdisciplinary residency program, a self-directed exploratory space honoring the creative process in solitude. With applications accepted three times a year, eight to ten residents are each given a private studio complete with work and living space, including a private bathroom and full kitchen. The center's chef prepares communal vegetarian meals four days a week, providing an environment to discuss ideas, challenges and successes. For decades, residents have formed life-long friendships at the Hambidge dinner table- musicians, culinary artisans, scientists, visual artists, writers, dancers and arts administrators from over 40 states and around the globe. Programs Director Dayna Thacker shares that with a recently completed capital campaign, "we're excited to expand our support of the creative spirit with workshops at our new Antinori Village, beginning in 2023." Presenting diverse topics, these classes will echo the spirit of the center's treasured residencies, with small groups facilitating deep learning, community building and nurturing the creative spirit in a natural setting. If you find yourself swooning but don't have time for a residency or workshop, consider visiting the center's Weave Shed Gallery for a rotating selection of artwork and other items for sale. Public events include monthly stone-grinding demonstrations at the center's Barker's Creek Mill or educational nature hikes. For education and event listings: hambidge.org.
John C. Campbell Folk School
1 hour 25 minutes from Highlands
Public Hours: Monday through Saturday 10 a.m. to 5 p.m.; Thursday 10 a.m. to 6 p.m.
Inspired by the Danish folkehøjskole, John C. Campbell Folk School was founded by Olive Dame Campbell and Marguerite Butler in 1925. Located on a 270-acre campus in Brasstown, NC, the Folk School offers over 800 immersive and non-competitive week-long and weekend small-sized classes annually. Classes are taught by expert instructors in more than 50 subject areas, including traditional and contemporary craft, art, music, dance, cooking, gardening, nature studies, photography and writing. Student Host and Work Study programs are available for those interested in long-term learning. Both positions receive housing, meals and tuition coverage in exchange for assisting students and instructors or working in the garden, grounds and dining hall. The grant-funded Artist in Residence program at the Folk School offers early to mid-career artists four months to focus on their craft; the Traditional Craft Mentorship program brings skilled practitioners of Appalachian craft together with emerging artists. A founding member of the Southern Highland Craft Guild, the Folk School's gallery-style Craft Shop has an online store and sells high-quality handcrafted items by regional artists representing many of the traditional techniques taught at the school. Music and dance continue to be a part of the school's long history. Community square and contra dances transpire Tuesdays, and concerts hosting regional and national acts occur weekly. Visit the Folk School's History Center to discover the rich heritage that has made the school a historical landmark. Other annual events include a holiday Fireside Sale, Hammer-In and Blacksmith Auction, Friends & Family Day, May Day Parade & Maypole Dance, and Fall Festival. The Fall Festival is held during the first week of October and includes culture, craft and music in true John C. Campbell Folk School style. For more information: folkschool.org.
Tryon Arts & Crafts School
1 hour 45 minutes from Cashiers
Public Hours: Monday through Friday 9 a.m. to 5 p.m.; Saturday 9 a.m. to 1 p.m.
Tryon Arts & Crafts School (TACS) offers seven studios for blacksmithing, clay, fiber arts, glass, jewelry, welding and wood with a new digital photography program launching in 2023. Workshops with visiting and local artists are available year-round in each studio, as well as packaged communal workshop experiences like FuseFest, an annual fused glass weekend workshop series with demonstrations, artist panels and a community dinner. Additional learning opportunities include six-week classes, independent studio time, make-it-take-it workshops and youth education. Work study exchanges are available in clay and wood; an artist residency program is in the works. Explore TACS's main gallery for artist exhibits, juried and guest curator shows, or visit the artisan retail shop for handcrafted items by regional and local artists. The seven studios also hold committee-planned seasonal and annual sales for student and instructor work. Remote shoppers can enjoy purchasing TACS work from the comfort of their couch during the yearly online auction held during the first week of November. Additional special events include festivals, luncheons, tea parties and community mixers. For events, exhibitions and more: tryonartsandcrafts.org.
Arrowmont School of Arts and Crafts
2 hours 15 minutes from Highlands
Public Hours: Monday through Friday 9 a.m. to 5 p.m.
Founded in 1912 as the Pi Beta Phi Settlement School to service the once-remote community of Gatlinburg, TN, it was the rich history of Appalachian crafts that led to the organization's transition into Arrowmont School of Arts and Crafts in 1967. Now an internationally recognized visual art education center, Arrowmont provides creative experiences year-round with more than 150 weekend, one- and two-week workshops from March through November. Dedicated exhibition spaces in Gatlinburg and Knoxville, TN, and small displays throughout studios and halls provide an active juried, themed and invitational exhibition schedule with works from instructors, Artists-In-Residence, pieces from the permanent collection, national and international artists and craftspeople. The school hosts annual art conferences and symposia, Community Classes, and through their ArtReach and other children's programs, impacts 1,500 schoolchildren annually. Arrowmont's Artists-in-Residence program provides five early-career, self-directed artists eleven months each year to develop work and participate in the Arrowmont community. Additionally, Pentaculum is a short-term invitational residency designed to provide artists in ceramics, fibers, metals, 2D, wood, sculpture and writing a week to work on independent projects and build meaningful relationships on campus. Arrowmont's Artist Showcase and Supply Store is open year-round and is Gatlinburg's only full-service art supply store, carrying basic supplies and tools for multiple mediums. The Showcase Gallery represents more than 60 artists affiliated with the school in-store and online. This year, The Arrowmont Gallery in Knoxville opened with monthly exhibitions and a marketplace gallery in the heart of Knoxville's arts district downtown. Arrowmont hosts a wide variety of events including its annual Arrowmont Golf Tournament and live art auction, Meet The Artists. For more information on events and classes: arrowmont.org.
Penland School of Craft
2 hours 30 minutes from Cashiers
Public Hours: Tuesday through Saturday, 11 a.m. to 5 p.m.
Founded in 1929 by Lucy Morgan, Penland School of Craft was originally an outgrowth of her earlier craft-based economic development project. Today, Penland encompasses about 420 acres and 60 buildings. More than 1,200 people attend the roughly 140 annual workshops with 16 teaching studios covering a broad range of topics. These include workshops for beginning-level, all-skill level and occasional advanced-level students, with an extensive scholarship program offering access to those who could not otherwise afford them. Additionally, Penland offers three residency programs, each catering to artists' needs at different vocational stages- from budding artists to artists at transitional points in their careers to professional artists. Each program is designed to meet different needs and offers studio space, living accommodations and the chance to participate in a vibrant and creative community. Teaching studios are not open to the public. However, guests are welcome to use a self-guided map to walk through the campus while visiting resident artists and the Penland Gallery and Visitors Center. The Penland Gallery presents curated exhibitions and smaller shows in its two gallery spaces, selling work by current and former Penland instructors, resident artists and students. The Visitor Center's displays illuminate the school's history and programs. Special events include end-of-session show-and-tells and auctions plus the Annual Benefit Auction, a gala event featuring work for sale by nationally invited artists each August. For more information: www.penland.org.